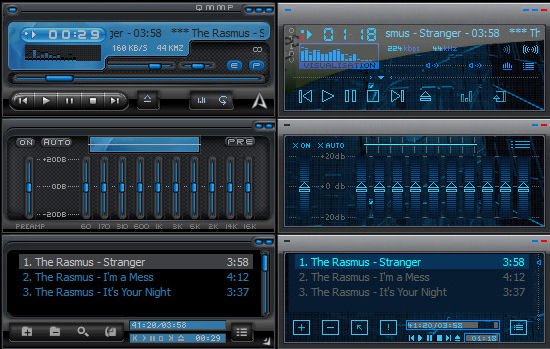 Qmmp 1.3.0 Multilingual | File Size: 16.6 MB

Qmmp is a modern audio player that allows you to listen to music inside a good looking environment, providing support for the most common audio formats on the software market. If you're familiar with Winamp, but want a simpler approach to audio playback, then Qmmp makes the perfect choice.



With an interface similar to Winamp, but a less crowded feature set, the program provides all that is necessary for a very comfortable media experience. Aside from impressing through an intuitive and user-friendly appearance, Qmmp also manages to attract through a rich set of abilities that are comprehensive and easy to work with. Playback controls include the basics, namely play, stop, next, previous, shuffle and repeat, with volume and balance adjustments. Just underneath the playback area, there's an equalizer that allows you to save or load various presets (including from Winamp).

The playlist can be populated by using the dedicated dialog that allows you to load individual files or an entire folder. The list of supported input formats includes MP3, WAV, OGG, APE, OGA, FLAC, WMA, TTA, MPC, OPUS, SND, AIFF and SPH, to name the most important ones.

As far as preferences are concerned, you can navigate to the Settings window when you want to tweak the appearance of the software (via the embedded collection of skins) or to configure keyboard shortcuts for the playback process.

In addition, you can enable or disable various audio plugins, opt for a proxy server and customize parameters such as replay gain and buffer size.

All in all, Qmmp comes across as a user-oriented audio player that sports a sufficient feature set for the average user. It brings a little bit of Winamp's look and feel, but it's simpler in functionality than Nullsoft's audio player.

Features:

Formats

MPEG1 layer 2/3
Ogg Vorbis
Ogg Opus
Native FLAC/Ogg FLAC
Musepack
WavePack
tracker modules (mod, s3m, it, xm, etc)
ADTS AAC
CD Audio
WMA, Monkey's Audio (and other formats provided by FFmpeg library)
PCM WAVE (and other formats provided by libsndfile library)
Midi
SID
Chiptune formats (AY, GBS, GYM, HES, KSS, NSF, NSFE, SAP, SPC, VGM, VGZ, VTX)

DSP effects

BS2B effect
sample rate conversion
LADSPA effects
extra stereo
crossfade

Visual effects

projectM visualization
spectrum analyzer

Output system support

OSS4 (FreeBSD)
ALSA (Linux)
Pulse Audio
JACK
WaveOut (Win32)
DirectSound (Win32)

Extra features

XMMS and Winamp 2.x skins support
alternative user interface based on standard widgets set
10-band equalizer
MP3, Vorbis, AAC, AAC+ streams support
MMS support (experimental)
MPRIS (1.0 and 2.0)
removable device detection (via HAL or UDisks)
video playback via Mplayer
lyrics (using lyrics.wikia.com)
cover art
CUE sheet support
embedded CUE support (for FLAC and WavPack)
multiple playlists
automatic charset detection for cue files and ShoutCast metadata
playlist formats: m3u, pls, xspf
ReplayGain support
Last.fm/Libre.fm scrobbler
CDDB support
stream browser
audio formats conveter
external programs execution on track change
ReplayGain scanner
Whats New:
Updates: official site does not provide any info about changes in this version.




,..,